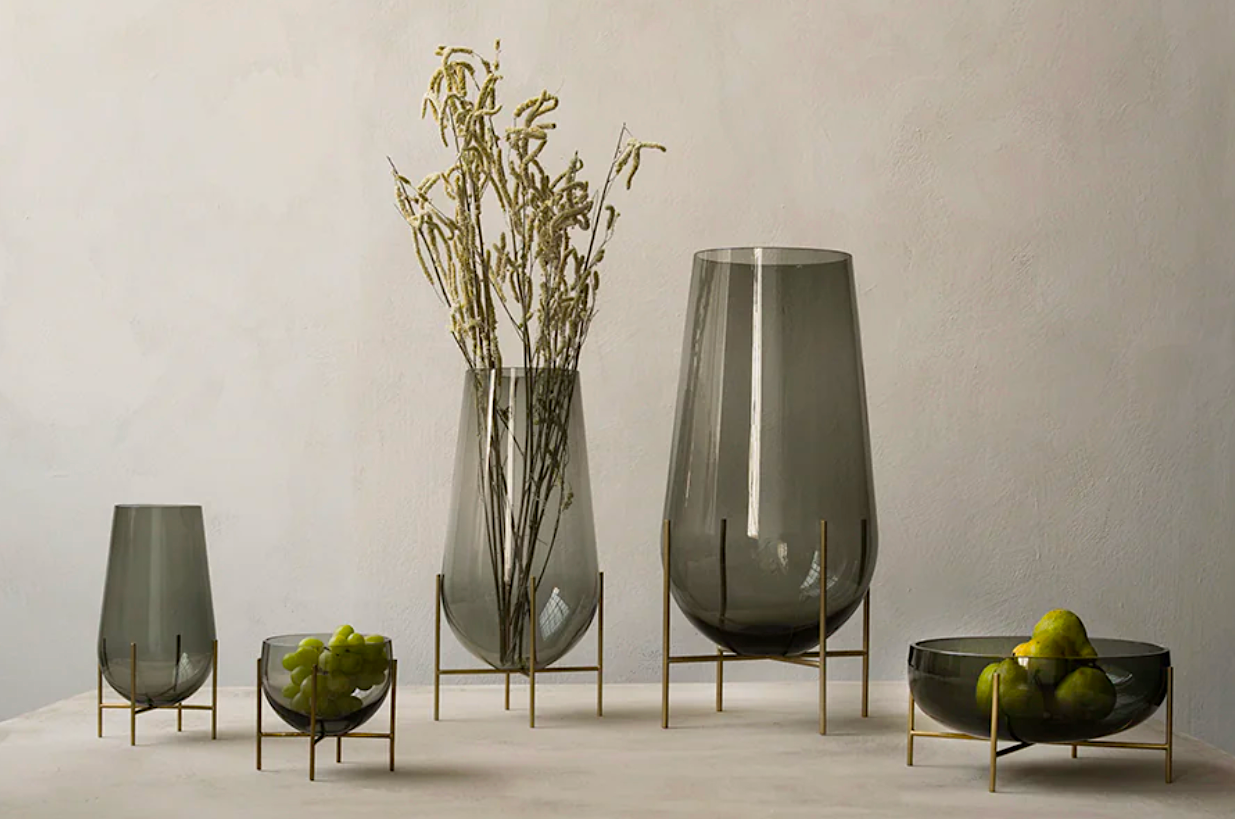 Vessels 101 - Containing the Uncontainable
Summer in the mountains brims with joy, so much so that embracing the season can sometimes feel overwhelming. To contain the bounty, we offer a pointillist solution: elegant vessels to showcase seasonal blooms. Anticipating summer, we have forged a new relationship with a venerable Scandinavian vendor—Menu Space—stocking in profusion their timeless interior accessories. Everything about Menu aligns with our vision of living beautifully, starting with the brand credo, "We connect people. We connect design. We connect spaces." By focusing on connection, Menu unites people and place through the inspired and inspiring design. "The sense of community that results from this union of like-minded individuals fosters a deeper sense of belonging – and products that stand the test of time, inviting human connection, inspiration and experimentation to push the boundaries of modern design." Amen—a particularly apt exclamation for the trio of Menu vases we recently welcomed in our showroom, each of which promises to foster connection in situ.
A collaboration with Singaporean visionary Gabriel Tan, the Aer Vas epitomizes the designer's appreciation of simplicity, sculptural beauty and functionality. "In my work, there's always an element of surprise," says Tan, who runs his eponymous design firm from offices in Singapore and New York. The Aer embodies the designer's ideology with its undulating form, reminiscent of waves or the way air moves through smoke or mist. Its rippled, asymmetrical silhouette makes the vase a sculptural statement from afar, and an almost ethereal presence up close. Each piece is hand-blown from smoke-colored glass.
When approaching their vase design for Menu, the Norwegian design duo of Torbjørn Anderssen and Espen Voll—dba Anderssen & Voll—started by studying the properties of glass, specifically how the intensity of color changes according to thickness. Troll thus becomes a celebration of glass as a magically dynamic medium; the orb grows from a solid, saturated base into a nearly transparent, bubble-like top. Befitting this morphology, the vase is named after a painting by beloved Norwegian artist Theodor Kittelsen, depicting a mythological water spirit, Nøkken, rising from the dark waters of a forest pond. "A good product builds and expands on tradition while simultaneously breaking the rules of said tradition," the designers say. "Modifications and elements of surprise, even changes that are less radical, stimulate thought and reflection, also who may not hold a particular interest in design. This tiny second of reflection is the window of opportunity where we can communicate with the users and that's what we strive to tap into." Whether filled with flowers or placed as a standalone objet, the Troll Vase achieves the designers' desire for reflection and connection.
Befitting her intuitive practice, Theresa Rand studied languages at the University of Cologne before diving into design by earning a master's degree in architecture and furniture design at the Royal Academy of Arts in Denmark. Now based in Copenhagen, her Studio Theresa Rand produces pieces at once functional and empathetically impactful. "I am pragmatic, but I also think that all the things surrounding us play a warm, poetic part," she says. "I like to work with different materials and shapes, and I always try to design simple objects that tell a story." The story told by her Échasse Collection of vases and bowls for Menu begins with minimalist elegance and ends with playful modernism. By borrowing the French word for "stilts," the Échasse Vase perches a glass bulb atop slender metal legs, gracefully defying gravity with its suspended form. Initially inspired by laboratory test tubes, Rand imagined the vase as an oversized droplet that would, like its scientific muse, invite infinite possibilities for experimentation in placement and purpose. As the Menu description so deftly states: "Alone or together, filled with favorite flowers, fruits and objects or displayed alone as sculptural focal points, these pieces enliven modern spaces with equal parts daring and grace." 
Equal parts daring and grace: the perfect description of all three Menu vases that have arrived in our showroom just in time for the epiphany of summer.
*Images provided courtesy of Menu Space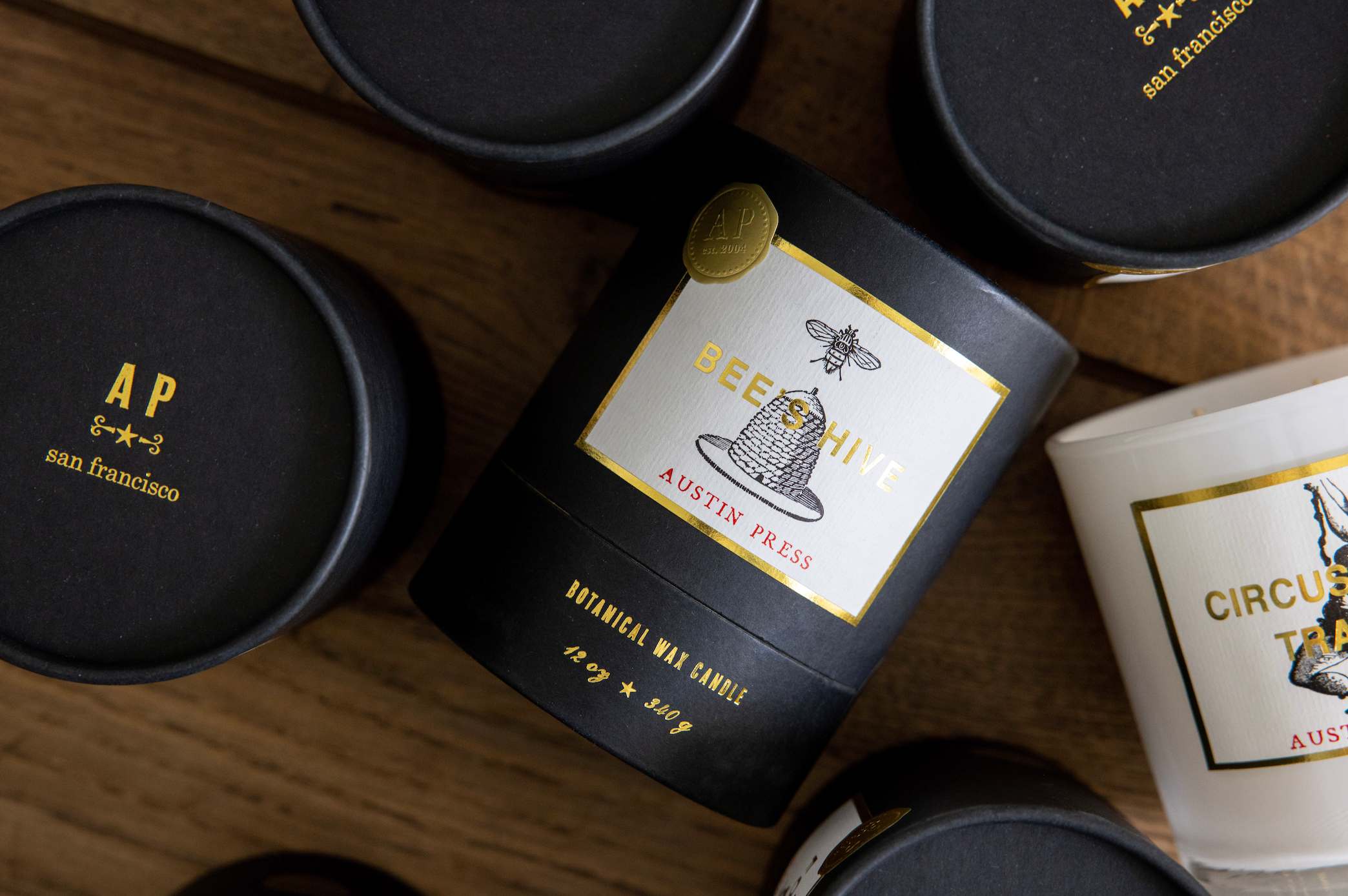 Kimberly Austin of Austin Press imbues every piece she produces with vintage character and care. From her nuanced, narrative candles to her exquisite letterpress cards, she makes each piece by hand...
Read more