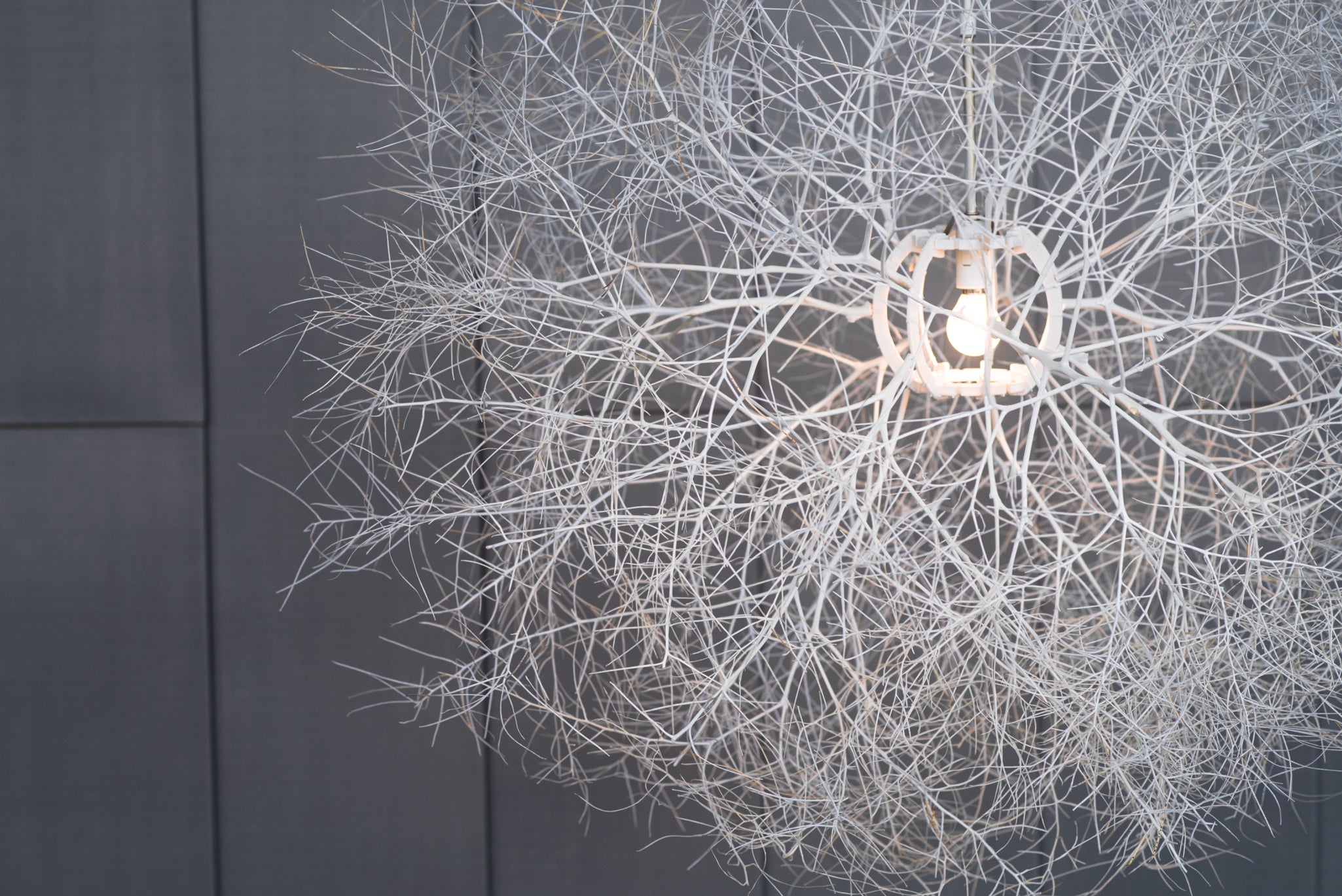 Rustic Beauty with Designer Owen Mortensen
Join us as we welcome Owen Mortensen to our showroom for a trunk show August 14 from 2-6pm. You can also shop Owen's pieces online here.
___ 
Designer Owen Mortensen is a true artist whose work transforms the indigenous flora & fauna of the American West into modern home decor. His 1200 foot studio sits at the foot of the picturesque Bear River Mountains in Logan, Utah. Walking into his studio is like visiting a naturalistic space that's filled with objects that are native to his beautiful surrounding valleys and mountains. Think: bison skulls, elk antlers, tumbleweeds and pieces of repurposed wood. It's undeniable that nature is Mortensen's greatest muse. He uses metallic gilding, paint, and stainless steel accents to craft these earth-given materials into his modern, updated versions. All the while, he always aims to keep each item's inherent, simplistic beauty intact. Taking nature's most unpredictable and wildest elements, Mortensen crafts these unique finds into clean and chic designs. This is what Mortensen refers to as "organic modernism," a term he's coined to describe his art form. For almost 20 years, he's also been exploring the notion of repetition in various forms by rendering collages with maple leaves, aspen bark, seeds and other finds from nature.
His attempt to articulate the beauty found within nature is never-ending. Few things carry a more western air than skulls, a statement piece that can live anywhere elegantly from a cozy mountain cabin, to a modern city loft. There's something so sculptural to his bone and skull designs, which he creates by using a 6-step process. "Texturally and architecturally, these skulls are inherently beautiful," he explains. The skulls embody a rustic beauty that's so beautiful to Mortensen. The lengthy process also includes a painting technique to finish the bone with an antiqued copper, silver, or gold-leaf. He uses this same technique on antlers and horns. "There's this almost morbid, spooky element that's covered in bright metallic gold and silver, " he says. It's the juxtaposition of such a luxurious finish that makes it interesting and beautiful. "The real magic happens with you have 9 or 12 skulls hanging on a wall all together." Another well-loved item is his tumbleweed chandelier, which is created through a highly intricate process. "No two lights are ever alike," he says. The enigmatic quality of his designs captures the imagination. "Like a child, I'm constantly collecting artifacts of nature—these tumbleweeds, antlers, skulls, stones and leaves are treasures to me," he says.
Mortensen is exceptionally compelled to design and create. "It's in the union of these two interests where I find the most joy," he says. Born and raised in northern Utah, Owen's work continues to feel rooted in the raw elements of nature and the culture that's experienced in the high-mountain desert of his home.
Ahead of his upcoming trunk show at Twenty Two Home (scheduled for August 14 from 2-6pm), we sat down with the artist to hear more about his artistic inspiration and design process.
 _____
22H: Tell us about your background & story! How did you get into the world of design?
OM: As long as I can remember, I've had an interest in art and design. My parents fostered this in me with numerous ceramic and drawing lessons. In college, I worked at a picture framing store where I began experimenting in framed, pressed leaves. I also started attending art festivals with my modern, organic creations. After beginning course work in architecture, I decided to dedicate my career to becoming an artist and designer full-time.
22H: You collect artifacts of nature for your creations. How do these things inform your art?
OM: These simple, natural artifacts already possess incredible elements of design. I let the natural elements do the visual heavy lifting and keep my design very minimal.
22H: Is nature your largest source of inspiration? Explain how it effects your process.
OM: Absolutely! This is almost cliché to say as an artist, but I simply skip a step of interpretation and allow the actual beauty of things found within nature to be the sculpture or wall art.
22H: You're constantly surrounded by beautiful landscapes. How does this sensation of place seem to work itself into your designs?
OM: Being surrounded by western landscapes has always certainly inspired me. The stark changing between the seasons is one element that I've always enjoyed exploring as a visual artist. There's something so intriguing about the transition from winter (death) to spring and summer (life). To me, it's absolutely wonderful. Also, the farming and ranching culture of the West is so interesting to me in regards to subject matter. Other than the American West, my family absolutely loves to travel. Our family name is Danish, so Scandinavian design has always been something that I follow very closely and feel some kind of inherent connection to. 
22H: Where do you find the materials that you work with?  
OM: Primarily in nature, just near my home in Northern Utah. 
22H: How do you feel that your designs truly embody that particular sensation of the American West? 
OM: There is an honest, raw quality to the American West that's uniquely beautiful. I think my work has this similar feeling.
22H: Why do you think you're attracted to functional art?
OM: Functional art, such as a light pendant, a coffee table or a cutting board are all things that allow people to become participants within the design instead of just viewers.
22H: Your refer to your work as organic modernism—can you explain?
OM: I describe my work as using natural, organic elements in a minimalistic, modern way.
22H: Your tumbleweed chandelier is a popular item at Twenty Two Home. Can you describe the intricate method of designing these lights?
OM: These tumbleweeds have long blown into my yard, and I have always loved their architectural qualities. For years, I pondered what I might be able to make with them. One day, the idea of lighting came to mind. Each pendant resembles one large tumbleweed, but it's in fact made of more than 40-50 individual tumbleweeds. All of these small pieces have been trimmed and carefully assembled to make the whole version. I love the fact that no two are ever just alike. 
22H: Describe the inspiration behind your design process.  
OM: The idea of seasonal change or progression is a common theme in my wall art. The Aspen Progression is one example, where I actually visited the same grove of trees 6-7 times over the course of 14 months to gather the leaves during all of their various stages. We are all somewhere on the spectrum of change and progression, and therein lies the beauty.
22H: What past and present artists inspire you?
OM: Andy Warhol and Andy Goldsworthy.
 ___
Join us as we welcome Owen Mortensen to our showroom for a trunk show August 14 from 2-6pm. You can also shop Owen's pieces online here.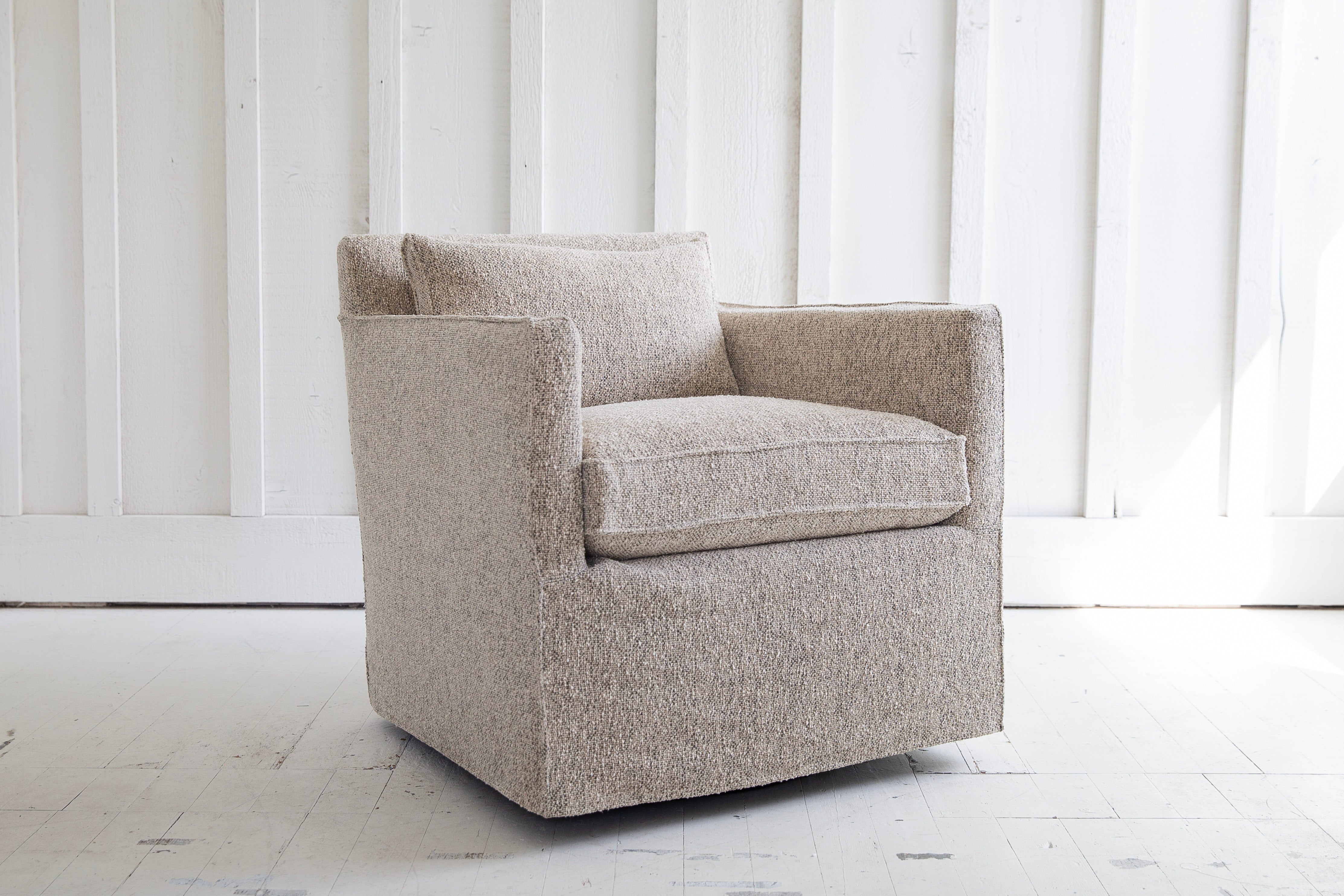 Who doesn't love a statement making chair? Our own Elisa Chambers of Snake River Interiors & Twenty Two Home tells us that the right chair has the visual ability to fully transform a space. 
Read more