Article: Eye Spy: Ben & Lael Salad Tongs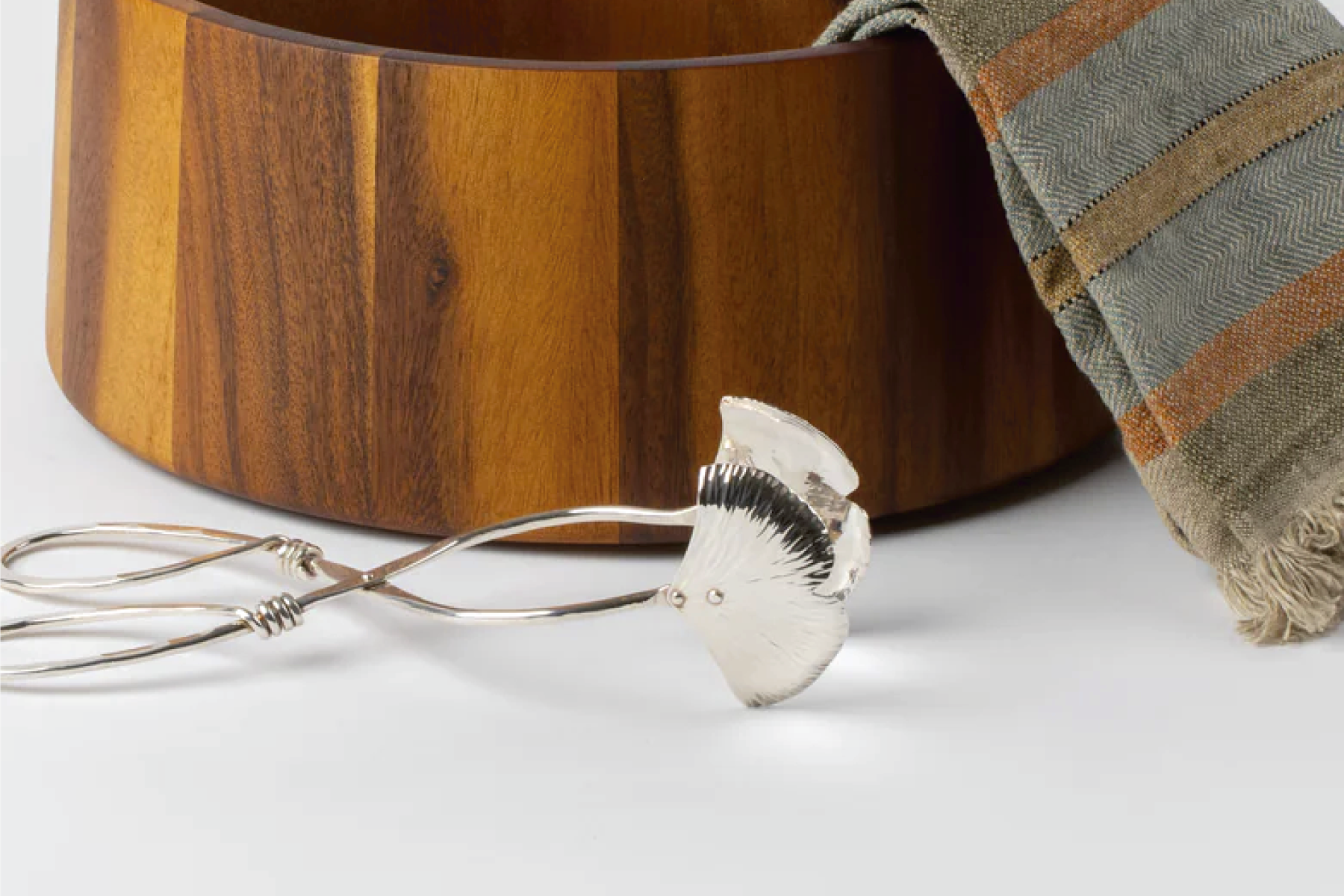 Eye Spy: Ben & Lael Salad Tongs
Nature guides Elisa's eye for exquisite details—an instinct she shares with Tennessean master craftsman Ben Caldwell.
Every serving piece he forges by hand showcases a singular silhouette from nature: lotus flowers inspire the form of his tomato server, a delicately fluted design he adjusts into an oval to accommodate asparagus; a fern frond informs his pasta server; and he's found the leaf of a tulip poplar to be perfect for hors d'oeuvres.
Befitting his hand-forged functional art, Ben discovered his passion for metalwork after being hand-picked by a master metalsmith to carry on his legacy. His portrait of an artist as a young man began traditionally, studying painting and sculpture at Tufts University before continuing his training at The Studio School of New York, Harvard University and The Boston Museum of Fine Arts. But when renowned metal worker Terry Talley contacted Ben's father—a fine art collector—he recognized a once-in-a-lifetime opportunity. "Terry was a metal artist of the old school," he writes on his website. "He was dying of lymphoma when he approached my father and asked if I would be interested in training under him. He knew that I was an artist, and he wanted to pass the almost entirely abandoned craft on to the next generation. Honored, I quit my job in 1999 to train with Terry full-time."
A quick study, Ben soon began to invent and make his own tools, personalizing the centuries-old techniques Terry taught him. In the early aughts, he launched Ben & Lael Inc. (merging his name with his wife's). Ever since, Ben has been making singular serving pieces in copper and silver out of his backyard studio. "I like to think of my metalwork as the marriage of beauty and functionality, something you just don't see much of these days."
For inspiration, Ben collects antique silver—spoons, cups, servers and trays. "I keep them around the studio to remind me of where I came from. When they made things, they were not thinking about, 'Well, can I make a thousand of these a day?' They were thinking, 'What is beautiful? And what is going to work?'"
What is beautiful? And what works? Two questions Elsa continually asks herself; kudos to Ben for articulating and manifesting such core, aesthetic curiosity.